Travala.com
AVA
Until June 30, 2019
Travala.com AVA: 2nd Quarter Updates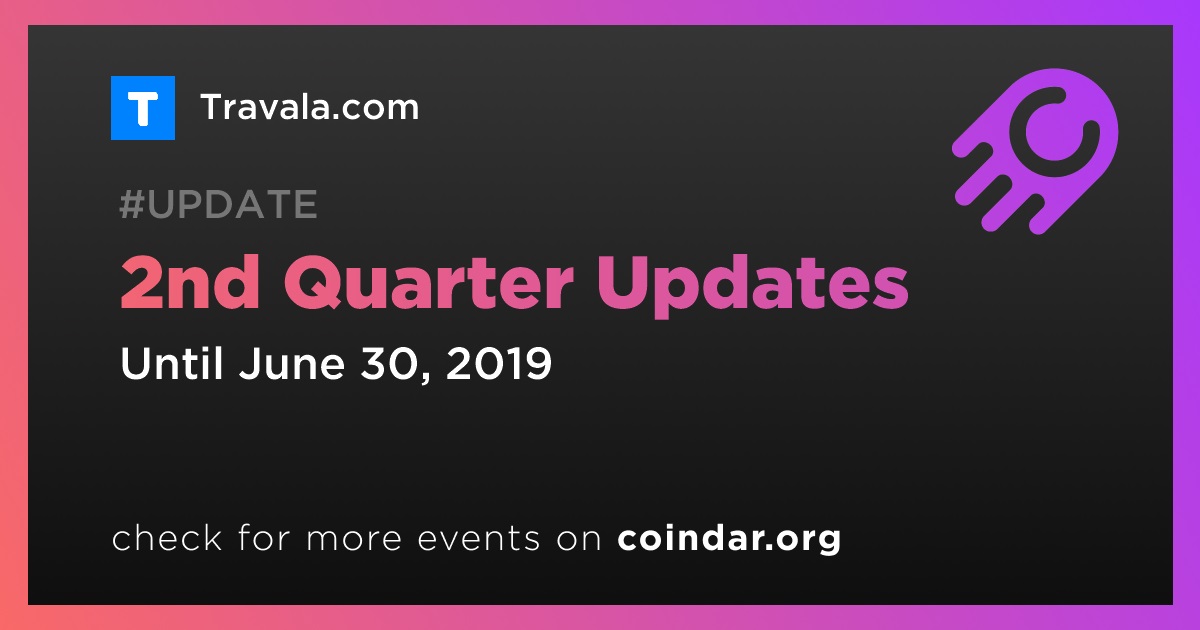 Booking giveback – Standard giveback of 2% of the booking value in AVA for all bookings made on the platform. Getting AVA into the hands of many.

Crowdfund – Travala has raised 114% of their target to accelerate growth of the platform. This will come to a close in April. https://www.crowdcube.com/travala

Beta launch of the marketplace – Bringing together all the development and partnerships over the last 12 months along with a whole range of features and UI / UX improvements

15 accommodation provider APIs – Integration of all of our travel partnerships over the last 6 months

Increased to 1.5 million properties – Our partnerships over the last 6 months have given us a total of 1.5 million properties worldwide ranging from hotels, resorts, villas, hostels, B&B, Vacation rentals and apartments

Credit and debit card payments – Pay with credit card and debit card built into the site

Refunds and amendments – Ability to cancel and amend bookings based on the individual hotel policies

Affiliate Partner Program – Affiliates will receive commissions from every booking made generated via their link. For bloggers , high traffic websites, business partnerships, event partners etc. Once fully completed it will be a full suite of tools that includes deep links , banners, booking widgets, plugins reporting, tracking etc.

B2B partnerships – Working together with some large businesses that will use Travala for their corporate bookings

Event collaborations – Supporting some of the biggest blockchain events in the space as their official accommodation provider

Business Level Accounts – Business accounts on the Travala platform

Geo location for currency – Based on IP currency will be auto selected

Crypto payment refunds in AVA – Bookings made in crypto will be refunded to the fiat value of the booking in AVA.
AVA price changes after event publication
The event is about to begin
22 reports
17 AMA sessions
10 exchange events
8 partnerships
5 branding events
5 updates
4 events related to earnings
4 releases
2 conference participations
2 contests
2 events related to testing of new functions
1 token swap
1 event related to a decentralized autonomous organization (DAO)
1 general event