Apex, Node-as-Service provider, unites with the Fantom Foundation's smart contract platform for digital assets that houses over 200 dApps. Apex plans to build the first fully insured bridge from Avalanche to Fantom which will go live at the end of July 2022. Apex Bridge will be fully insured by UnoRe, a decentralized insurance and reinsurance platform and powered by Catoshi's superior Bridging Technology.
ApexBridge will allow for the quick and safe transfer of Fantom tokens (FTM) from the Fantom blockchain to Avalanche and other Ethereum Virtual Machine (EVM) networks. The Apex and Catoshi teams will work together to ensure bridges are built to the highest standards. Prior to deployment, ApexBridge will be audited by Certik and Uno Re, and go through extensive penetration testing via Halbourne. The bridge will be available for all decentralized exchanges and DeFi protocols via API kits to the Fantom blockchain to ensure coherent integration of its dApps.
"The Fantom Foundation is excited to see Apex's insured bridge from Avalanche to Fantom and the continued advancement in their multi-chain infrastructure bringing Wrapped Fantom into the Avalanche Ecosystem" said Michael Kong, CEO of Fantom Foundation.
Catoshi's bridges are currently using a lock/unlock mechanism with node scripts. At present the bridges are more centralized (this is the safest way to ensure fewer vectors of attack). In phase 2, we will be using the highest standard technology to decentralize the bridge in the most efficient and safest manner. Decentralization cannot be taken lightly and the team will ensure that this process is thoroughly tested and developed. When decentralized, the safety of the bridge will be of the standard of the current centralized model.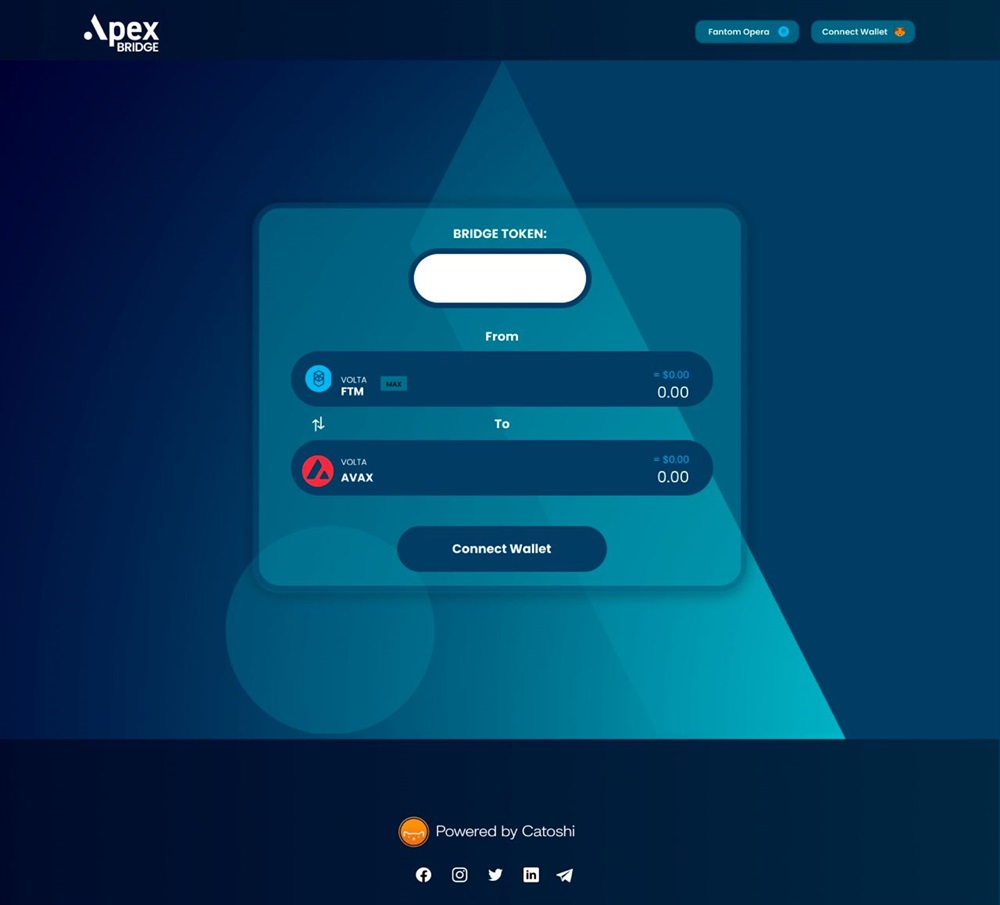 "The Catoshi team is excited to be partnering with Apex, facilitating the building of the Apex Bridge (insured by Uno Re)" said Joshua, CEO of Catoshi. "The recognition of the Fantom Foundation is testament to the quality all the teams involved possess. Building the FTM to AVAX bridge is just the beginning - the future is very bright indeed".
Furthermore an allocation of Apex Nodes will act as de facto nodes operating on the bridge thus increasing decentralization and security, and reducing latency in order to allow transactions to be processed faster.
UnoRe plans to work with Apex, Catoshi and the Fantom Foundation to insure the tokens on ApexBridge. Since bridges are a popular target for attacks, insurance of the assets on the Bridge will increase liquidity on the bridge due to increased adoption and as a result further drive down gas fees.
"Apex is a very promising project within the DeFi space" said Jaskanwar Singh, CEO of UnoRe. "Apex Bridge would be the first fully insured bridge between Avalanche & Fantom and it gives me immense pleasure to have UnoRe insure and take solid steps in providing our services to the protocol and it's growing community".
Once the bridge is deployed, Apex will be opening up wFTM on ApexSwap, a first in the Avalanche Ecosystem. Apex also has further plans to launch its nodes on Fantom blockchain.
"Apex is very proud to partner with Fantom Foundation" said Tom Barr, CEO of Apex. "Alongside our partners Catoshi and UnoRe, we are excited to build the first fully insured decentralized bridge to Fantom. We are grateful for the support the Fantom Foundation have shown us, and we can't wait to start bringing wrapped Fantom over to Avalanche at the end of July".
What is Apex?
Apex is a true Node as a Service (NaaS) protocol built on the Avalanche blockchain, and offers developer tools and infrastructure to set up and manage the nodes connected to the network. Apex deploys nodes for a wide range of blockchains and empowers these networks by increasing the decentralization and security of these blockchains including Arweave, Avalanche, Ethereum, and the Bitcoin Lightning Network. Apex Nodes have a 100% uptime, infinitely scalable and instantly available.
Twitter | Medium | Discord | Telegram | Website| ApexSwap | Apex Nodes dApp
What is Fantom?
Fantom is a fast, scalable, and secure layer-1 EVM-compatible platform built on a permissionless aBFT consensus protocol. On Fantom, transactions are confirmed in 1 second and cost just a few cents. Speed, low transaction costs, and high throughput make Fantom ideal for DeFi applications and real-world use-cases.
Twitter | Discord | Telegram | Telegram ANN | Reddit | Website
What is Uno Re?
UnoRe is the world's first decentralized insurance and reinsurance platform, built on the Polkadot blockchain, making it easy for users to benefit from trading and investing in the reinsurance market. Powered by an AI-based algorithm, the platform allows regular users to buy coverage for any assets held in their wallets, which traditionally requires high capital to invest.
Twitter | Telegram |LinkedIn | Instagram | GitHub | Discord | Medium | GitBook | Website
What is Catoshi?
Catoshi is a cross-chain bridge, positioned to be a major force in cross chain compatibility. It allows Catoshi tokens to operate on various EVM chains including Binance Smart Chain, Ethereum, Avalanche, Polygon and Fantom blockchains. With focus on DeFi, it provides the safest security and soon to allow its token holders ability to earn tokens from all bridged projects through a stacking pool.
Discord| Telegram | Twitter | Medium | Website | DexTools | PooCoin | ZooCoin