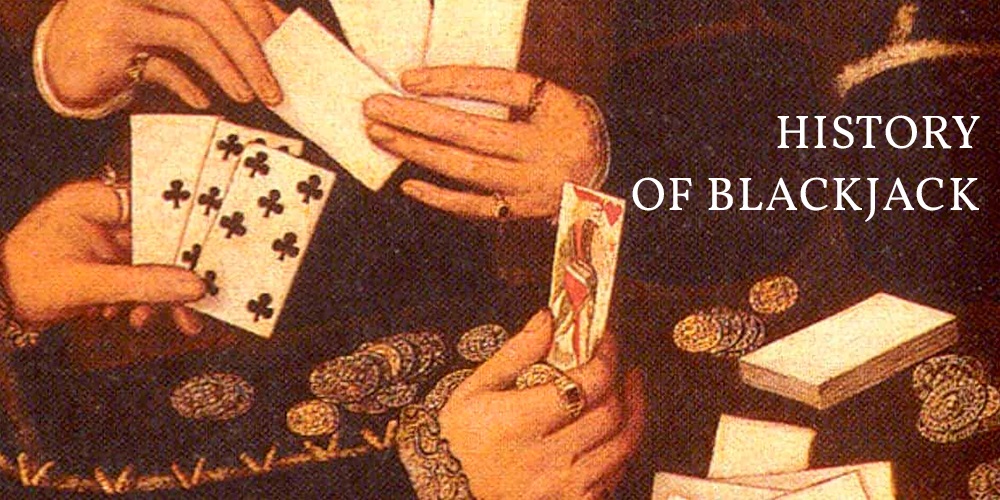 Few games can surpass blackjack in popularity. Blackjack has had major successes on land-based casinos for decades, giving players a once-in-a-lifetime chance to strike it big at the 21 table. This guide is meant to help you familiarize yourself with the history of blackjack and the evolution of a timeless game. 
The Beginning of 21
The earliest known reference to 21 was way back in early 1611 by the Spanish author Miguel de Cervantes in his well-known masterpiece, Ronconete y Cortadillo. Miguel is also recognized for his works in the adventure novel - Don Quixote. Ronconete y Cortadillo is a story about a game called Veintiuna, which is the Spanish name for 21. The plot revolves around characters that were proficient at cheating in Veintiuna. 
The author noted that Veintiuna was a card game in which the 8s, 9s, and 10s were removed, while the Ace carried either one or 11 points. This description is strikingly close to the Spanish 21, a variant of blackjack. In later years, more and more Spanish authors made reference to Veintiuna in their works, following the lead given by De Cervantes.
For more than a century, the game played primarily on paper, until a French casino became the first to bring it to the floor in 1768. This game came to be known as Blackjack, but at the time, it was referred to as Vingt-et-Un, which translates to 21. The prevailing argument is that Vingt-et-Un borrowed concepts from popular games at the time, namely Chemin de Fer (Iron Way) and French Ferme (Firm French). 
Vingt-et-Un proved to be attractive and has spread outside the casino and in private games. The rest, as they say, is history; a New World Order was established in the gambling world. As such, this is a big deal, especially due to the fact that major crypto casinos, like
1xBit
, are continuing with this tradition by including blackjack in their offerings. 
Blackjack As We Know It
The debate still persists for this. Some say Blackjack was played as early as the era of the Roman Empire. The name, Blackjack, came to fruition during the Klondike Gold Rush of 1896 to 99. During the closure of illegal casinos in the 1931 Nevada crackdown, the remaining casinos introduced bonuses and special bets on top of Vingt-et-Un, which was by this time worn out. That included 10 to 1 payouts for an Ace of Spades and either black jacks at hand. 
Today, the payout is generally 3:2. Blackjack was the nickname that stuck after being passed around by prospectus and players. By the 1950s, the Blackjack you know and love today began. The experience becomes more and more liberating and thrilling as advances in computer technology kicked in. Researchers and enthusiasts probed the mathematical probability to curb cheating and exploitation of shady techniques. 
Nowadays, Blackjack is obviously going strong, as always. 1xBit has gone all out with Blackjack; thus, this online casino has not one, but three variants of the game. Blackjack maintains unmatched popularity in casino gambling, and these variants are nothing short of fantastic. 1xBit provides classic Blackjack that can give you the possibility to delve into the old-schooled casino atmosphere. Also, the new variant offers a game in a company of charming young women to spice things up a bit. For the player looking for a challenge, Dota 2 style variant puts you against popular characters from your favorite game.
About 1xBit 
1xBit is a cryptocurrency casino that makes gambling more rewarding with access to 5000+ slots from 100+ game providers. The stellar offering starts with a 7 BTC welcome bonus that is available after completing a simple registration process. As a fully anonymous casino, players are not required to provide private information to 1xBit. Moreover, the platform offers login credentials automatically. 
Freedom has been top of mind at 1xBit; it offers support for 20+ cryptocurrencies, giving the player complete choice over the cryptos to bet. The most adorable live dealers are at 1xBit right now, waiting for players who want to take their 21-card game to the next level with Dota 2 style in an immersive atmosphere. 
Conclusion
Blackjack has a rich history that makes it very popular even now. It is essential to know that it is not just a simple game, but a real masterpiece of art appreciated by many high-class casinos. If you are passionate about the gambling world, you should definitely try to play blackjack at least once.