Thursday, October 7, 2021 UTC
Chain-Agnostic Payment Solution DePay Opens IMO Whitelisting for the Binance Smart Chain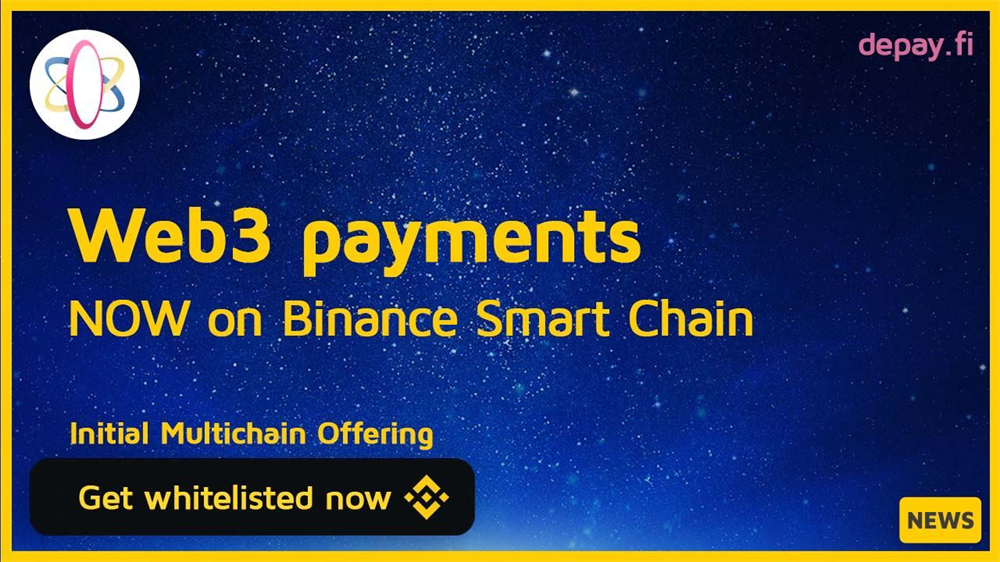 DePay, a decentralized payment protocol for web3 sellers, has just gone multi-chain with its expansion to Binance Smart Chain. 500,000 DEPAY tokens are now up for grabs with the launch of the company's IMO, and the Whitelisting will end on October 15.
Zug, Switzerland October 5, 2021
DePay is pleased to announce the launch of its Initial Multichain Offering, making available 500,000 DEPAY tokens until the end of the Whitelisting on October 15. The chain-agnostic payment protocol is paving the way for mass adoption of crypto payments with their first of many upcoming blockchain expansions.
DePay designed its IMO with the goal of creating the fairest ever launchpad within the DeFi space by offering equal opportunities to all participants. Following this launchpad, DePay is all set to extend payment support for most other major chains and L2S in the near future.
"In regards to why you should participate in our IMO, simply because it allows you to own a token before it launches on a DEX.
So it's the classic launchpad scenario.
Only a few selected, whitelisted people get the chance to have the token before it launches on a DEX.
And that's especially important if you think about all the bots buying up initial IDO supply the second the pair launches
It's also our way of rewarding existing DEPAY holders, as we like to share the success of growing onto additional blockchains with the community.", said Sebastian Pape, DePay Founder, CEO & CTO.
DePay is a decentralized payment protocol for web3 sellers that can be extended on any blockchain-specific plugin at any given time. Built around interoperability, scalability, and flexibility, the protocol allows users to accept any asset regardless of the blockchain they are held on. This reduces frictions, and makes performing decentralized payments simple like never before.
Some key highlights of DePay's Initial Multichain Offering on the Binance Smart Chain include
• No personal allocation limits
• All participants to receive their acquired tokens automatically on the go-live day by an automatic Token Release Drop.
• Rewards for existing DEPAY token holders.
• Unparalleled user experience powered by DePay Widgets.
To encourage large scale participation, DePay has lowered the entry barrier for Whitelisting. Anyone holding a minimum of just 1 DEPAY token on Ethereum network can get Whitelisted. All claimed tokens will be sent simultaneously to participants by smart contracts.
"Shortly after the birth of DePay, especially small Ethereum transactions became less and less affordable as the network became overloaded due to high demand. On the Binance Smart Chain, even the smallest of transactions are affordable, which opens up so many use cases for DePay products. Think of microtransactions or donations below 100 USD. Who is willing to spend 50 USD in network fees in order to send someone a 5 USD tip for a helpful article? Probably not many...We have focused our efforts to date on building an extremely solid foundation on which we can grow rapidly to all major networks currently used for payments." said DePay CMO & Co-Founder Alexander Paul.
"For us, the expansion to BSC is the starting point for the era where the type of token owned by the buyers no longer matters while carrying out crypto payments. We don't integrate or support individual assets, but the entire blockchain network. Users don't even have to sign-up with an email. Thanks to DeFi, it is enough to adjust a few variables in a couple of lines of code and start using DePay on any website or DApp within minutes. In addition to rapidly scaling to more blockchains and layer 2 solutions, we will be focusing on maximizing integrations in the near future" Paul added.
To find out more about the just launched IMO, please visit https://depay.fi/launchpad/bsc
About DePay: DePay is a decentralized multichain payment protocol for web3 sellers, which allows integrators to easily offer crypto payments to their customers. The company was founded in the Swiss "Crypto Valley," after the company's CEO Sebastian Pape became
ETHOnline finalist with the initial idea of the protocol.
Contact:
Alexander Paul, DePay CMO & Co-Founder
Email: support ((at)) depay.fi