Bitcoin
BTC
March 1, 2018 6:00
Bitcoin BTC: Blockchain & Bitcoin Conference in Istanbul, Turkey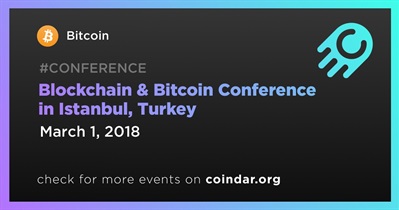 Blockchain & Bitcoin Conference is an event for those interested in cryptocurrencies and blockchain developments. We invite investors, traders, financiers, blockchain developers, as well as management of companies interested in business modernization.

The conference will be attended by experts with world-known names and representatives of the Government of Turkey.

Key topics of the reports: the role of blockchain and cryptocurrency in the world economy; the strategy of the Government of Turkey in the field of the latest technologies; legislative regulation of the sector; best practices of the blockchain introduction into business. Several repots will cover investments in the cryptocurrency and technical development issues.

Official language at the conference are Turkish and English.
BTC price changes after event publication
The event is about to begin
41 conference participations
38 exchange events
14 hard forks
13 regulatory events in different countries
9 general events
8 releases
6 meetups
4 partnerships
4 branding events
3 contests
3 events related to earnings
2 announcements
1 report
1 update