Bitget Token
BGB
September 18, 2023 UTC
Bitget Token BGB: Hackathon Ends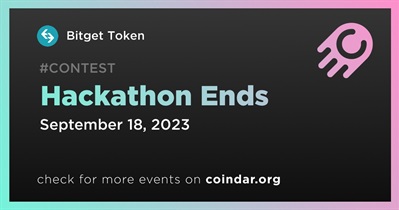 Bitget is organizing a Blockchain4Youth hackathon challenge. The event is set to start on the 12th of August and will run until the 18th of September. The challenge is aimed at finding innovative ideas that can revolutionize Web3. Participants will form teams, choose a topic, and submit a video. The reward for the challenge is 5 prizes of 10,000 USDT each.
🌐 Have an idea that will revolutionize
#Web3
?
💻 Join our
#Blockchain4Youth
hackathon challenge & win 5 x 10,000
$USDT
in prizes!
How to win ⤵️
👬 Form your team
📚 Choose a topic
🎥 Submit video
⏳Hackathon period:
aug 12 - sep 18
💎 All the best!
#B4Y
BGB price changes after event publication
The event is about to begin
53 AMA sessions
38 events related to earnings
30 contests
7 conference participations
7 updates
5 reports
4 partnerships
3 meetups
2 releases
2 exchange events
1 general event
1 announcement
1 branding event