Cartesi
CTSI
September 24, 2022 14:00 UTC
Cartesi CTSI: AMA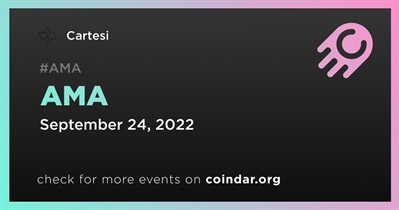 What is AMA?
An AMA (ask me anything) is a usually online informal interactive meeting where participants are free to ask the guest questions and get answers in real time.
4/ Not a dev? Don't worry. This
#hackathon
isn't just for developers. It's open to all students regardless of technical experience. Whether it's ideation, marketing or presenting,
#Web3
is open to everyone - all you need to bring is an open mind and boundless creativity!
Cartesi Event Schedule: - Friday, 23 Sept, 9:45PM - Cartesi Workshop - Saturday, 24 Sept 2:00 pm - Office Hours with Cartesi Contributors come have a chat about your idea! Sign up:
hackboston.xyz
CTSI price changes after event publication
The event is about to begin
33 AMA sessions
16 exchange events
7 events related to decentralized autonomous organizations (DAO)
6 releases
6 reports
4 contests
3 meetups
2 general events
2 lock or unlock tokens
2 events related to earnings
2 conference participations
2 events related to testing of new functions
1 update
1 partnership