Ergo
ERG
August 8, 2020 UTC
Ergo ERG: Ergo Mixer Release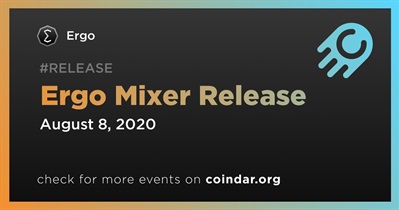 The new version of ErgoMixer will be released on Aug 8. 
This version will support token mixing; you can start mixing any tokens, also you can ask us to add a token to our list so that everyone using ErgoMixer can see and mix it more user-friendly! 
Also, mixer's performance has been improved in various aspects so you will have a smoother mixing experience in this version. 
Please consider finishing your current mixes by Aug 8 and start using the new version. 
We also will release platform-specific binaries for this version.
ERG price changes after event publication
The event is about to begin
90 AMA sessions
10 exchange events
10 releases
6 events related to testing of new functions
5 updates
5 contests
4 general events
2 hard forks
2 meetups
2 branding events
2 conference participations
1 announcement
1 partnership
1 event related to a decentralized autonomous organization (DAO)
1 event related to earnings