MagicCraft
MCRT
May 26, 2023 11:00
MagicCraft MCRT: AMA on Twitter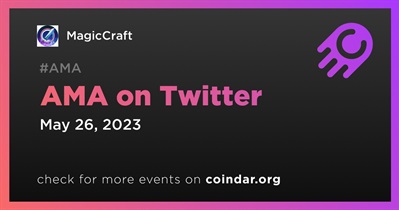 Join to an AMA on Twitter
What is AMA?
An AMA (ask me anything) is a usually online informal interactive meeting where participants are free to ask the guest questions and get answers in real time.
Excited about all the amazing updates we announced last week? ⚡ Discover exciting updates, gain insider insights, and dive into the future of
$MCRT
in our AMA on May 25th🤩 Join Discord now!
https://t.co/3WjBOptgs3
MCRT price changes after event publication
The event is about to begin
8 AMA sessions
6 exchange events
5 contests
4 events related to earnings
4 releases
1 update
1 event related to NFT and digital art
1 announcement
1 conference participation