TRON
TRX
March 11, 2019 UTC
TRON TRX: BTT Airdrop for TRX Holders on Binance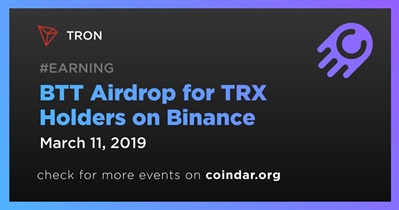 Initial BTT Airdrop on 2019/02/11
For the first airdrop, corresponding to 1.1% of the total BTT token supply, we will take a snapshot of all TRX balances on Binance at block height 6,600,000 on the TRON blockchain (estimated to be 2019/02/11) and distribute BTT to TRX holders at a ratio of 1 TRX = 0.11 BTT.

Monthly BTT Airdrop Program
Binance will also support the monthly airdrop program of BTT. We will take a snapshot of TRX balances at 0:00 (UTC) on the 11th day of each month and distribute BTT based on the following calculation:

BTT received by User A = Amount of TRX held by User A at the time of snapshot / Total TRX held by Binance at the time of snapshot * Total BTT received by Binance based on total TRX holdings for the respective monthly airdrop.
TRX price changes after event publication
The event is about to begin
93 exchange events
58 AMA sessions
26 events related to earnings
19 releases
12 reports
12 announcements
12 contests
10 meetups
8 partnerships
6 branding events
5 conference participations
5 events related to testing of new functions
5 updates
4 token burns
2 general events
2 hard forks