Volt Inu
VOLT
February 13, 2023 23:00
Volt Inu VOLT: Token Burn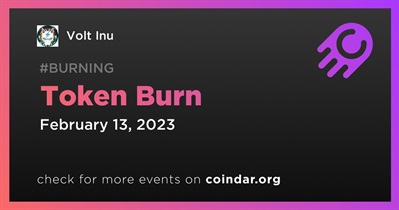 The 1st burn will start on Feb 13, at 6:00pm EST
What is coin (token) burn?
A coin (token) burn is a process of sending a certain amount of cryptocurrency to a public address that has unobtainable private keys. In the future, the sent coins cannot be spent, thus the coin burn leads to an overall decrease in the cryptocurrency circulating supply.
1/2 The DAO has approved with a majority of 99.97%: 🔸The burn of 44.85T
$VOLT
tokens from the bridge liquidity (worth $74.5M at the end of the vote) & 🔸The transfer of 25% of the Uniswap liquidity to a listing on Polygon ⚡️The 1st burn will start on Feb 13, at 6:00pm EST!
twitter.com
VOLT price changes after event publication
The event is about to begin
15 AMA sessions
15 exchange events
4 contests
3 token burns
2 events related to earnings
1 general event
1 token swap
1 update