Voxel X Network
VXL
October 26, 2022 17:00
Voxel X Network VXL: AMA on Twitter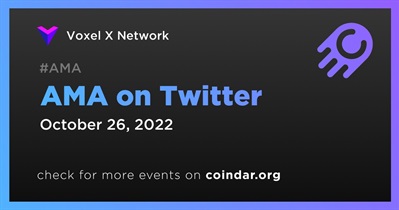 AMA will be held on Twitter
What is AMA?
An AMA (ask me anything) is a usually online informal interactive meeting where participants are free to ask the guest questions and get answers in real time.
Tune into
@VoxelXnetwork
AMA with our strategic partner MATTEREUM Wednesday, 26th of October 2022, 10AM PST Where:
twitter.com
Meet
@mattereum
founder Vinay Gupta
@leashless
who coordinated the release of the blockchain platform Ethereum in July 2015.
VXL price changes after event publication
The event is about to begin
41 AMA sessions
3 exchange events
1 partnership
1 release
1 report
1 contest
1 event related to earnings